Orlando
see attorneys
In 1980, eight attorneys established the business law firm of Dean, Mead, Egerton, Bloodworth, Capouano & Bozarth, P.A. The founders were Stephen T. Dean, Robert W. Mead, Jr., Charles H. Egerton, Darryl M. Bloodworth, Albert D. Capouano, Stephen J. Bozarth, Lauren Y. Detzel and Lynn J. Hinson. With the exception of Mr. Dean, who passed away in August 2000, the founding partners remain active leaders in the firm today. We are well known throughout Orlando under our abbreviated name, Dean Mead.
Dean Mead is ranked as a top-five law firm in Orlando by Corporate Board Member magazine. Many of our lawyers have achieved the highest recognition in their fields, such as Board Certification by The Florida Bar, the AV Preeminent rating from Martindale-Hubbell, or inclusion in the Best Lawyers in America® and Chambers USA. We also have several attorneys named to "Florida's Legal Elite" published in Florida Trend Magazine and "Orlando's Best Lawyers" in Orlando Magazine.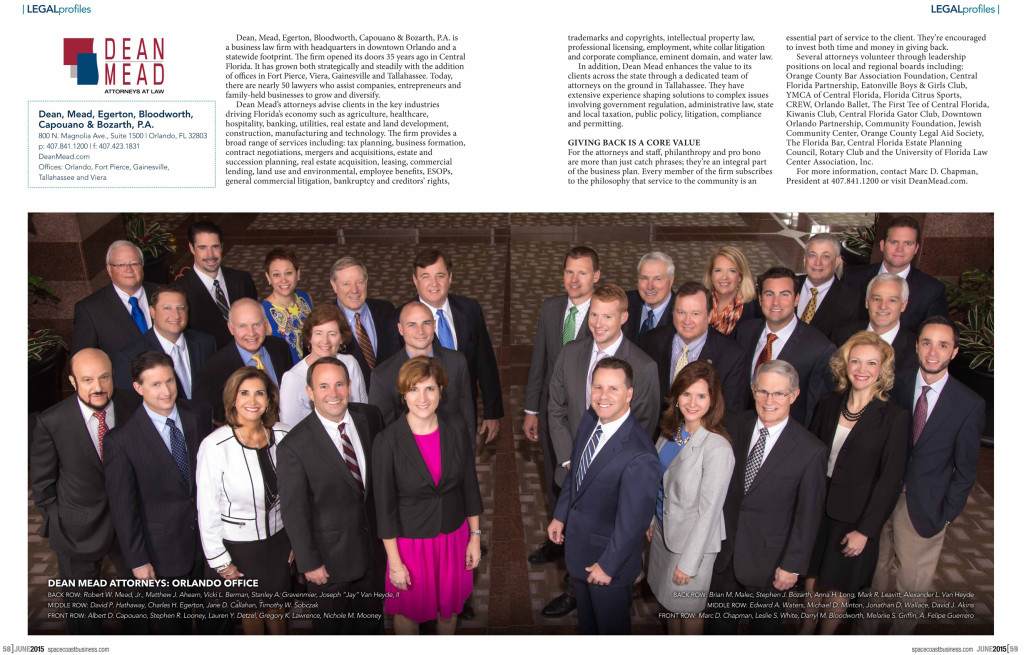 Dean Mead's Orlando attorneys featured in i4 Business magazine's June 2015 issue.
Orlando Connections
Orlando may be known worldwide as one of the top vacation destinations, but for those of us fortunate enough to live and work here, we know there are many more "attractions" unique to central Florida outside of amusement parks.
Recognized by BusinessWeek as one of the world's "most fiercely competitive" communities, Orlando offers unlimited potential on par with the nation's top business centers; a diverse spectrum of industries; young, vibrant, talented workforce; multi-modal access to destinations around the globe; a do-what-it-takes attitude; and year-round sunshine.
The growth of the city in the last 36 years has prompted many new businesses and corporations to make Orlando their home, thus bringing in new jobs and better schools. Darden Restaurants, Lockheed Martin and Walt Disney World are just a few of the major employers in Orlando.
Healthcare, biotechnology and medical research are fast becoming the key industries at the core of Orlando's burgeoning economy. In a recent article published by Thomson Reuters, Lake Nona's new "medical city" is touted as the driving force that will propel Orlando's economic surge ahead of the rest of the state. Economists agree that Orlando's job growth will surpass that of even Miami, largely due to the life sciences cluster that is projected to have a nearly $8 billion impact by 2020.
Dean Mead's Orlando office serves as the hub for all the branches of the firm and is conveniently located in downtown Orlando, in the Wells Fargo building.
Giving Back to Our Community
Dean Mead is proud of its commitment and service to Orlando through involvement with civic organizations and pro bono legal work. By supporting numerous organizations within Orlando, our lawyers are able to dedicate themselves to a cause or organization they are truly passionate about. For 36 years the attorneys and staff have invested in this community, thus earning the reputation for helping to shape the fabric of our community.
While Dean Mead supports a variety of organizations throughout Florida, education is a guiding principle of our philanthropic platform. In 2007, the University of Central Florida College of Medicine made history by becoming the first medical school in the country to offer full scholarships to its entire charter class. In an effort to serve as stewards for corporate citizenship, Dean Mead endowed the first scholarship to the College of Medicine, naming it for Robert W. Mead, Jr., a founding member of the firm and longstanding legal adviser to Central Florida's medical community. To date, we have donated nearly a half million dollars to the UCF College of Medicine and served as the premier sponsor of the College of Medicine Luminary Series – dedicated to educating business leaders about the groundbreaking research taking place right here in our community.
Our attorneys not only support local civic and charitable organizations, but we also take an active role in leadership positions. The firm is represented on boards for key Orlando organizations including the Central Florida Partnership, Eatonville Boys & Girls Club, Florida Heart Institute (an affiliate of Florida Hospital), YMCA, Florida Citrus Sports, Commercial Real Estate for Women (CREW), University Club of Orlando, Central Florida Gator Club, and the Kiwanis Club of North Orlando.
Dean Mead has invested in numerous philanthropic organizations such as the Orange County Legal Aid Society, Jewish Federation, Junior League, Orlando Ballet, Second Harvest Food Bank, United Way, ALS Association, Orlando Humane Society, Autism Speaks and the Boy Scouts of America.  Orlando attorneys and staff undertake numerous office-wide initiatives including monthly "Casual for a Cause" days focused on increasing awareness and raising funds for many of the charitable organizations noted here.