Florida Leaders in Law
Dean Mead is a commercial law firm founded in 1980. Our attorneys provide full-service legal representation to businesses and individuals throughout Florida.
Congratulations to Robert W. Mead, Jr.
He has been recognized as the Best Lawyers "2014 Lawyer of the Year" in Orlando for the practice area of Corporate Law.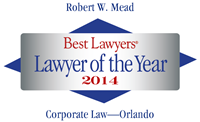 Mr. Mead is one of the founding shareholders of Dean Mead. He has over 40 years of experience representing physicians and medical entities with business matters including employment agreements, buy-sell agreements, negotiation of hospital contracts and related agreements involving physicians and healthcare relationships.
Dean Mead is pleased to announce the opening of our Tallahassee office
Dean Mead's Tallahassee Governmental Relations & Regulatory Team
Peter Dunbar
Martha Edenfield
John Wharton
Ashley
DiNunzio-Gault
Access. Influence. Results.
Our Tallahassee lawyers advise businesses and public sector clients on a wide range of services including:
Administrative Law
Agri-Business Regulation and Permitting
Commercial Litigation
Government Relations and Legislative Advocacy
Professional Licensure Defense
Land Use and Environmental Law
Real Property and Condominium Law
Utility Law and Regulation
Water Resources, Permitting and Regulation
Lawyer Spotlight: Dennis G. Corrick: Committed to Business, Agriculture Community and Family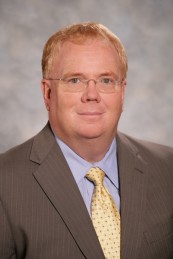 Since joining Dean Mead in 2000, Fort Pierce office shareholder Dennis Corrick has become an integral part of the St. Lucie County community – counseling its businesses, advising on the optimal land and water use stewardship, and offering leadership to non-profit service organizations. With a client base that includes agribusiness, developers and general mid-sized businesses, […]