Florida Leaders in Law
Dean Mead is a commercial law firm founded in 1980. Our attorneys provide full-service legal representation to businesses and individuals throughout Florida.
Veteran Dean Mead Attorney Paul M. Goldman Retires After 50 Years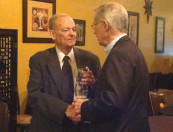 Dean Mead Shareholder, Paul M. Goldman, retired from practicing law in Florida as of July 15, 2014. Paul practiced for more than 50 years in Florida with 22 of those years at Dean Mead in Brevard County.  Prior to Dean Mead, Paul was a partner in the firm Spielvogel and Goldman, located in Merritt Island, for 28 years, Paul joined Dean Mead following a merger in March, 1992.
Reflecting on his long legal career, Paul has witnessed great change in his long-time primary practice area of marital and family law, particularly based upon the more "formulaic" impact of the codification of certain matters by statute or rules of procedure and evidence. One factor remains the same – studies continue to show that the incidence of marriage dissolutions displays a national trend of around 50% nationwide.
"Marital and family law is still emotional, however, dissolution of a business and dissolution of marriage are currently similar," Paul commented. He goes on to add, "Now, child support guidelines based upon net income of the parties and other factors exist that did not before, as well as statutes regarding alimony and presumptions as to length of the alimony award based upon the term of the marriage and other factors." Specific rules now exist to ensure equality regarding distribution of marital assets, regardless of who earned the funds and how they are titled. "Mediation or alternate dispute resolution has become very important, where all family law cases are usually submitted to mediation. Court administration studies show that approximately 30% of litigation settles with mediation, which relieves a great burden on the court system," Paul said.
Paul has had the opportunity to forge long-standing relationships with his clients, and what he appreciates most about post-litigation takeaways, is when clients express thanks and gratitude after a long, hard procedure in litigation, and they are pleased with the result.
"I've always followed the mantra that a lawyer should obtain as much of the client's objectives as possible. No one is ever totally pleased with the results in litigation, as they enter into it with the hopes of achieving most – if not all – of their objectives." Paul adds, "When you've realized that you have prepared and presented the case properly – that is the highest accomplishment any attorney can have."
As he prepares to embark upon this, the next chapter of his life, he reflects on his experience at Dean Mead; "I appreciate the collegiality of my fellow attorneys, and some have become personal friends of both my wife and me. I always enjoyed the fall events and family retreats, and being with the firm has just been a comfortable and rewarding experience," he said. His plans for retirement are to relax and not have the daily pressures that the practice brings, do plenty of reading – a favorite pastime – and to possibly teach at the college level. "I'd also like to pick up where my wife and I left off with our travels when we were younger," Paul said. The two will be married 57 years in October, 2014, another milestone.