Fort Pierce
see attorneys
In 1987, Dean Mead attorney Michael Minton returned to his hometown of Fort Pierce to open an office in what is known as Florida's Treasure Coast region. He and his colleague, Joel Zwemer, worked to expand the Fort Pierce office where our attorneys represent a diverse client base from Palm Beach County to Indian River County and conducts business under the name Dean, Mead, Minton & Zwemer.

Dean Mead featured in Florida Trend magazine's Treasure Coast special section.
Dean, Mead, Minton & Zwemer and the firm's Fort Pierce office are featured in the February 2012 edition of Florida Trend magazine in the Treasure Coast Community Portrait. To see the cover story, and our firm's "Commitment to Community" ad, please click here.
Treasure Coast Connections
The Treasure Coast derives its name from the many treasure ships that wrecked off the coast during the 17th and 18th centuries. Spanning from Indian River County south to St. Lucie County and Martin County, the region is shielded from the Atlantic Ocean by narrow sandbars and barrier islands that protect the shallow lagoons, rivers, and bays.
Today, Fort Pierce, Port St. Lucie and the Treasure Coast are home to some of Florida's most pristine beaches and recreational fishing communities. The region offers a relaxed atmosphere for residents and tourists alike.
In recent years, the communities of the Treasure Coast have made efforts to rebrand the region as the "Research Coast" in order to spotlight the area's world-class research institutions such as the Harbor Branch Oceanographic Institute, the University of Florida Institute of Food and Agricultural Sciences, and Florida Atlantic University. The region has also become home to a growing number of biotechnology and life research companies including the Oregon Health & Science University Vaccine & Gene Therapy Institute and Torrey Pines Institute for Molecular Studies in Port St. Lucie.
Giving Back to the Community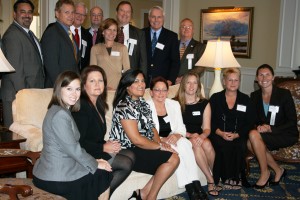 Dean, Mead, Minton & Zwemer is proud of its commitment to the Treasure Coast through involvement with civic organizations and pro bono services. Our attorneys not only support charitable organizations within the area but take an active role in leadership positions.  Community service has historically been one of the firm's core values and we share this philosophy with many of our clients and local businesses.
Dean Mead's Fort Pierce office was honored as the 2010 Outstanding Corporate Philanthropists of the Year from the Association of Fundraising Professionals Treasure Coast chapter. Dean Mead has donated more than $1.5 million of financial support to education, children's services and other philanthropy for the region over the past 25 years.
In addition to the firm's monetary contributions, Dean Mead's lawyers donate hundreds of hours to public service for the benefit of our community.  We embrace the opportunity to take leadership roles on boards of many organizations throughout the Treasure Coast, including the United Way of St. Lucie County, the St. Lucie County Chamber of Commerce, Harbor Branch Oceanographic Institute, Treasure Coast Food Bank, Big Brothers Big Sisters of St. Lucie County and many more.
Shareholder Michael Minton is a strong champion for education. He has served on the boards of several educational institutions, including the Indian River State College Foundation Board of Trustees and the University of Florida College of Law Center Association Board of Trustees, and as Co-chair of the University of Central Florida College of Medicine Charter Class Scholarship Fundraising Committee.  Following his example, key shareholders within Dean Mead are making a difference.
Shareholder Lee Dobbins served as President of the St. Lucie County Chamber of Commerce, as a founding member of the Board of Directors of the St. Lucie County Economic Development Council, and served on the Board of Directors of the St. Lucie County Education Foundation and the St. Lucie County Council on Aging.
Shareholder Dennis Corrick served as Chairman of the United Way of St. Lucie County in 2008 and helped the organization exceed its campaign goal by raising $1.88 million for United Way agencies in St. Lucie County. He's also been instrumental as a member of the Board of Directors of the St. Lucie County Chamber of Commerce since 2005, and was appointed by Governor Crist to the Children's Services Council of St. Lucie County.
Shareholder Joel Zwemer has been helping to steer growth in St. Lucie County as a member of the Board of Directors of the Economic Development Council since 2009, and as a member of the Treasure Coast Builders Association. In addition, he has served as a member of the Board of Directors for the Education Foundation of Indian River County
Shareholder Brad Gould served as Chairman of the Board of Directors of Big Brothers Big Sisters of St. Lucie, Indian River and Okeechobee Counties and has been a director since 2005. In addition, he is the founder and former Chairman of the Parent Academy of St. Lucie County.
For nearly 20 years, Dean Mead partnered with Indian River State College to support the "President's Challenge to SOAR/Take Stock in Children" scholarship program. This beneficial program works to break the poverty cycle by giving at-risk eighth and ninth graders in Indian River, St. Lucie, Martin and Okeechobee Counties the promise of a full scholarship at a Florida college or university if they stay out of trouble, maintain a decent GPA and graduate from high school. Hundreds of scholarships have been awarded.
Dean Mead played a key role in the restoration and reopening of the 1920s-era Sunrise Theatre in historic downtown Fort Pierce. We donated over $100,000 while also helping to raise the remaining funds needed to revitalize the theatre as a place all can enjoy. In November 2010, the Sunrise Theatre was the location of the firm's 30th anniversary celebration with more than 100 clients and local business leaders in attendance. Through hard work and community support, the Sunrise Theatre has once again become a focal point for economic development and entertainment in downtown Fort Pierce.