Today, the Florida Office of Economics and Demographics Research released the February Revenue Report providing details regarding receipts and distributions to the State's general revenue fund during the month of February. This report generally reflects January 2021 retail sales tax activity. Florida's general revenue fund is the main source of discretionary funding for the State. 
Pre-pandemic, economists projected the State would receive $36.5B in general revenue during the current July 1, 2020 – June 30, 2021 state fiscal year. In mid-August, those economists reduced the general revenue forecast by $3.4B due to continued anticipated losses resulting from the pandemic. Between August and November, actual general revenue collections exceeded the mid-August forecast by more than $1B. 
Then in mid-December, the economists updated their forecast to add an additional $1.5B in revenues, suggesting the state would still receive $1.9B in less revenue than pre-pandemic estimates.  Since that forecast, the actual revenue collections have significantly continued to exceed the forecast. February's actual collections exceeded the forecast by $298.5M, which means the State has collected an additional $881.9M since the December forecast. 
State economists are scheduled to update their official general revenue forecast next Tuesday. That forecast will be used by the Legislature to write the next state budget.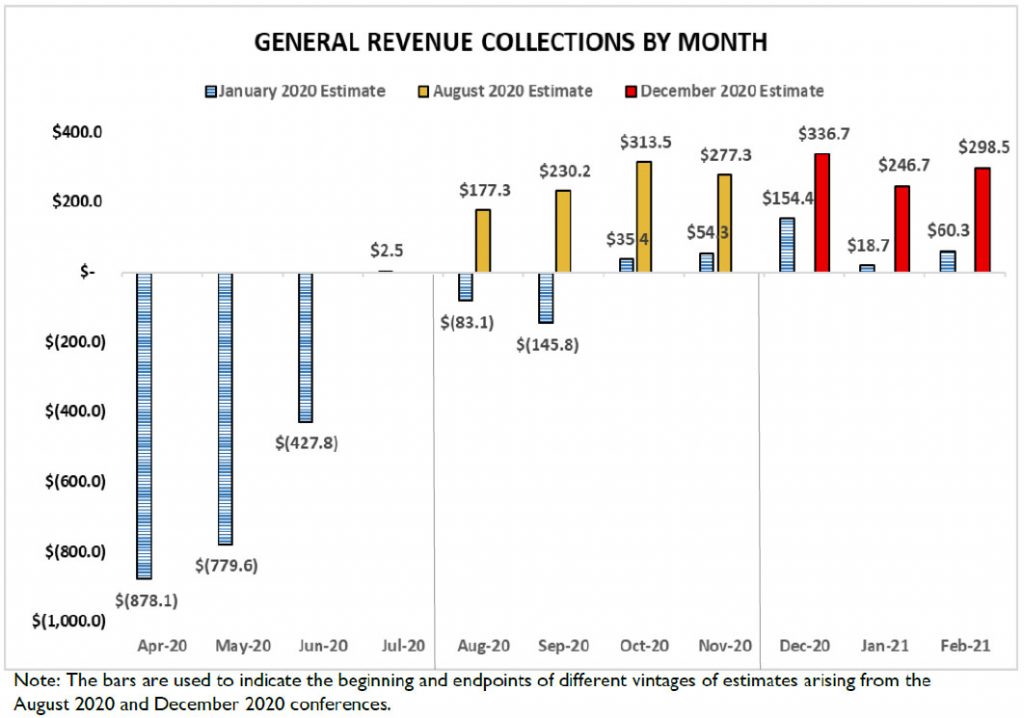 Important Takeaways
From October 2020 through February 2021, actual general revenues collected have exceeded the pre-COVID forecast by $323.1M.
Slightly more than 64% of the gains in February 2021 came from the Sales and Use Tax.

However, sales tax collections across all categories would have fallen below the pre-pandemic estimate for the month.

In January 2021, 10 of the 17 general revenue sources exceeded the December forecast. Those 10 sources generated a total gain of $212M for the month. 

6 of these 10 general revenue sources exceeded the amounts collected in February 2020. In addition, 6 general revenue sources that did not exceed the December forecast still exceeded the amounts collected in February 2020 ($98.4M).
We hope this information has been helpful. If you have any questions, please feel free to contact French via email at fbrown@deanmead.com or phone at 850-459-0992.