Please join Dean Mead's Tax and Estate Planning attorneys for a special seminar on Wednesday, January 31st at the Country Club of Orlando.
Sweeping Changes You Need to Know About the Tax Cuts and Jobs Act
Wednesday, January 31st
Registration:  7:45 a.m.
Breakfast:  8:00 a.m.
Program:   8:15 a.m. – 11:30 a.m.
Location:  The Country Club of Orlando,  1601 Country Club Drive, Orlando, FL  32804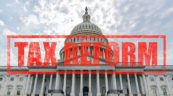 Kindly RSVP by Jan. 29th to reply@deanmead.com, or call 407-428-5129.
This seminar will cover the tax implications of the U.S. tax reform legislation.
8:15 a.m. – Highlights of the income tax portion of the presentation include:
Background information on how and why the Tax Cuts and Jobs Act (the "Act") was enacted
Changes under the Act primarily affecting individual taxpayers
Changes affecting businesses, with additional discussion of the impact on passthrough entities (S corporations, partnerships, LLCs and sole proprietorships), choice of entity for conducting business and the impact of the new Act on real estate related activities
Changes applicable to C corporations (other than changes in the international arena)
10:15 a.m. – Provisions of the new Act relating to estate planning include:
Their impact on existing estate plans and what you and your clients should be doing right now
Planning for clients across the wealth spectrum
Taking advantage of the increased transfer tax exemptions
Income tax changes for estates and trusts
Following the seminar, we will apply for CPE credits for accountants.