Brevard County business leaders convened in Viera on July 29th to hear about the latest on "Real Estate Tax Valuations and Tips on Exemptions". Dean Mead's seminar featured Dana Blickley, Brevard County Property Appraiser and George Mascellino, Chief Deputy of the Office of the Brevard County Property Appraiser, along with two of the firm's prominent real estate attorneys, Mason Blake and Laura Young.
It is that time of year when TRIM notices will go out and property owners will be reviewing their property values and exemptions that are applicable for the 2014 tax year. Panelists addressed a room full of business leaders on issues ranging from Florida's Homestead Tax Exemption to other property tax exemptions and classifications. They discussed how the TRIM and Value Adjustment Board process works including the informal conference process, as well as requirements and deadlines for filing petitions to the Value Adjustment Board. Panelists also covered options to property owners through the quasi-judicial and judicial process, including denials from the Value Adjustment Board.
To review the materials that were distributed at the seminar, please view here: Viera Outline for Property Tax seminar.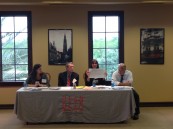 (from left to right: Laura Young, Mason Blake, Dana Blickley and George Mascellino)