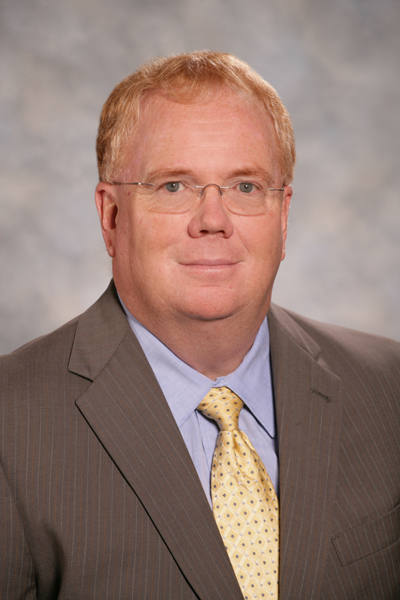 Since joining Dean Mead in 2000, Fort Pierce office shareholder Dennis Corrick has become an integral part of the St. Lucie County community – counseling its businesses, advising on the optimal land and water use stewardship, and offering leadership to non-profit service organizations. With a client base that includes agribusiness, developers and general mid-sized businesses, Dennis advises clients on projects that can have major local impact. "I'm going to stay here as a part of the community and people know that. Local officials know that I've got roots here, and I'm not looking to make a quick exit for somewhere else," he asserts. "I think they know I'm not willing to work on a project that I don't believe is good for the community." Some of Dennis' land use work has been representing local agricultural landowners selling to developers, or developing the property themselves.
Underlying Dennis' practice are real estate and business issues. "Agribusiness in Florida is mainly cattle ranching, and land owners leasing out their land for cattle grazing and row crops. And there are transfers of property within these family businesses. So agricultural work is not as big a departure from commercial real estate as you might think," he says. Water issues are a growing part of this work. Most of his land use and zoning practice is in St. Lucie County, but Dennis also undertakes real estate, water permitting and general business work from the Treasure Coast throughout the Kissimmee River-Lake Okeechobee basin. Dennis worked on Florida's first statutory Rural Lands Stewardship area, a land use design that allows development rights to be removed from environmentally valuable lands to land suited for more intense development.
Water Management
"In Florida, a big part of managing and owning land is water: permitting, quality, quantity," he notes. "In order for a landowner to develop their property, or put it into active agriculture, a permit is usually necessary, and a big part of my work is securing those permits."
Having negotiated and closed the sale of numerous properties in the footprint of the Comprehensive Everglades Restoration Program, Dennis is intimately familiar with the working of Florida's water management legal structure. One important water use policy issue on which he has placed major emphasis the past several years is Florida's new numeric nutrient water quality standards, ultimately imposed after a long battle between the state and the EPA. "I saw how fast things were changing, so I've worked hard to stay ahead of the curve," Dennis says. "There are more changes coming over the next several years, but it's obvious that water quality will be more important than ever. And since they have the ability to retain and cleanse water, agricultural landowners may have tremendous opportunities to get paid for performing these environmental services. Every element of Florida life will be affected – agriculture, development and local government, from the fertilizers we use on our lawns to the crops we grow to the water we drink."
Land Use
Most Florida counties have a growth management plan and Dennis typically represents clients by interacting with local government to assure compliance with the plan, request conditional uses, change zoning or even modify the plan. This can require a series of meetings and hearings, mostly with city or county government. "It's a two-way street," is how he describes the process. "Staying in front of the elected officials is beneficial in that they know and trust you. The local governments and representatives want to believe that a local land use attorney has the best interests of the county at heart, even if they disagree on a particular choice. I have turned down projects that I thought were not in that best interest." In addition to the Rural Lands Stewardship Area matter, Dennis has worked on land use for wind energy and biofuel projects.
Business Counseling
While land and water issues are central to Dennis' practice, he also is involved in a wide range of other business counseling. Dean Mead's Agribusiness Industry Team often represents businesses that are owned across multiple generations and advises them on the estate tax implications of business organization and structure, as well as on business succession planning and preservation of land holdings. "Our agricultural clients are not typically large agribusiness corporations with disinterested shareholders," Dennis explains. "They are often closely-held, controlled by certain family members, but for the benefit of the family and its future generations. As the family changes and plans for the future, we may change how property is held, may convey some to another part of the family, or may lease it to generate revenue. There are lots of issues for a real estate transactional attorney to address."
Dennis also advises on general business transactions representing a range of clients. Right now, for example, he is representing a fast-growing natural resource business with contracts and acquisitions, advising them on everything from business governance to structuring their entity form. "In working with medium-sized businesses, I rely on the sophisticated tax, corporate, estate planning and other services from my Dean Mead colleagues," he says. "We think and act across areas of expertise and truly function as a team; it's one of the things Dean Mead does best. It allows us to take on projects too complex for one attorney, or one practice area."
Before entering law school later in life, Dennis was in the wine business for a decade, including four years as owner of his own shop. "I've been a businessman myself – I've signed contracts and made a payroll, so I definitely empathize with what my business clients have to do every month," he notes.
Personal Priorities
Dennis is a second generation Florida native, born in Gainesville and a double graduate of the University of Florida. He grew up in Jacksonville and practiced for several years in Polk County after graduating from law school. In 2000, he gravitated to the Treasure Coast to join Dean Mead. "This is a wonderful area. It has size and sophistication, but is not so big that it's difficult to become established in the community," he says. "By my third year here, I was on the United Way board because I asked to be. This community is always eager for young professionals to get involved."
Dennis says, "Giving back ranks high on my priority list and is important to me. I always carve out a portion of my time to devote to it." The list of high profile community leadership activities in which he has been involved is extensive: Board member and Board Chair of United Way of St. Lucie County, Inc.; Gubernatorial appointee to the Children's Services Council of St. Lucie County; Chair (by appointment of the County Commission) of the St. Lucie County Agricultural Development Steering Committee; current member, by Superintendent appointment, of the Superintendent's Business Advisory Committee; and Board of Directors member for the St. Lucie County Chamber of Commerce. One of his top current tasks is chairing a campaign for the Children's Services Council of St. Lucie County to be reauthorized on the ballot in 2014.
Another reason giving back to the community is important to Dennis is that St. Lucie County has been and will continue to be home for his wife and two children – a 15-year old son at the Marine Oceanographic Academy at Harbor Branch Oceanographic Institution, and a 17-year old daughter pursuing an IB diploma. "We're definitely a water family and get out on the water whenever we can," Dennis says. "I fish for relaxation, so preservation and best use of Florida's waters is a personal commitment for me" – one among many commitments that keeps Dennis front-and-center in the best interests of St. Lucie County.