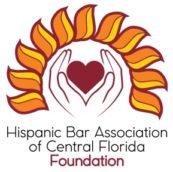 Orlando, Fla. – The Hispanic Bar Association of Central Florida (HBACF) announced today that the organization has created The Hispanic Bar Association of Central Florida Foundation to support local law school students by providing them with financial and professional support to help them achieve their educational and professional goals. The Foundation is a collaborative effort among current and past HBACF members who possess the passion, vision and hard work to invest in the next generation of Hispanic leaders in Central Florida.
The inaugural members of the Foundation Board of Directors are: Jael Aldunate, Luis Gonzalez, A. Felipe Guerrero, Henry Lim, Irene Pons Meyers, Ani Rodriguez-Newbern, Diego Puig, and Karla E. Valladares.
"The Foundation serves a vital role in our community," said Felipe Guerrero, member of the Foundation's Board. "Our mission is to promote empowerment through education and to emphasize the importance of helping our community gain greater access to the legal system, and to promote civics, professionalism, and inform the general public about relevant legal issues and their rights."
The Foundation was officially unveiled at the Hispanic Bar Association of Central Florida's annual Scholarship Night on September 28, 2017. The Foundation Board members were on hand to announce the recipient of the Foundation's scholarship award of $6,000 to Darly Bocanegra. The award is distributed by the Foundation in conjunction with the Hispanic Heritage Scholarship Fund of Metro Orlando.  To make a tax deductible charitable contribution to the Foundation, please visit https://www.paypal.me/hbacffoundation.
Bocanegra moved to the United States from Colombia in 2009 where she was the first lawyer in her family. When she moved to the United Stated, Bocanegra had to pursue her legal career all over again, learning the English language, meaning of words, pronunciation, historical law content and more.
Despite all obstacles, Bocanegra made the Dean's List multiple semesters and is ranked in the top 5% of her class. She achieved all these accomplishments while attending Florida A&M University College of Law's Part-Time Evening Program, maintaining a part-time job, being a wife, mother, interning at the Orlando Center for Justice, volunteering at the HOPE Community Center Immigration and Child Care, being in the Women's Law Caucus, Marshal Bell Society, Hispanic Law Student Association and Law Review.
Individuals who are interested in applying for the scholarship are encouraged to review the Foundation's criteria, as follows:
Must be a student currently attending Barry University School of Law or FAMU College of Law and is currently considered a 2L or higher as defined by school attendance;
Although there is no cumulative GPA minimum, requirement, academic achievement and excellence is strongly considered;
Must be of Hispanic decent or heritage;
Must have campus and community involvement and/or leadership;
Must submit a personal essay;
Must submit at least one letter of recommendation;
Financial need is not a factor but will be considered; and
Military service is not a factor but will be considered.
About HBACF:
The Hispanic Bar Association of Central Florida, Inc. (the "HBACF") is a non-profit organization that was incorporated on September 3, 1991. The HBACF stands ready to advocate for the rights of the Hispanic community and help Hispanics learn and understand their legal rights and gain greater access to the courts and the legal system. The HBACF is also committed to promoting a greater representation of Hispanics in leadership positions. These efforts include supporting Hispanics in becoming judges, lawyers, law professors, law students, civic leaders, and business owners. For more information, please visit https://www.hbacf.com.
# # #