Congratulations to Felipe Guerrero who was honored April 7, 2012 as a 2012 Outstanding Young Alumni by the University of Florida Levin College of Law. He was recognized at a special awards ceremony at the Emerson Alumni Hall on the UF Campus in Gainesville. The Outstanding Young Alumnus Award was established seven years ago to honor young Gator alumni who have distinguished themselves in the areas of business, community involvement and public service. Following the awards ceremony, Mr. Guerrero was invited as a special guest to join UF President, Bernie Machen, in his box for the exciting annual Orange and Blue football game.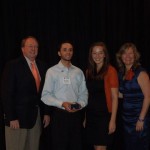 Mr. Guerrero is an Associate in the Orlando office of Dean Mead. His practice focuses on real property litigation, commercial litigation, creditors' rights and landlord/tenant litigation. He graduated from the University of Florida Levin College of Law, with honors, in 2005. He received his undergraduate degree with honors in Political Science with a minor in Spanish from the University of Central Florida in 2001.
Mr. Guerrero currently serves as President of the Hispanic Bar Association of Central Florida. He is also a member of the Orange County Bar Association, the University of Florida Law Alumni Council, the Florida Bar, and he's a graduate of Leadership Orlando.